International top speakers come to Munich for IAA MOBILITY
Over 500 major visionaries will be speaking about climate-friendly and connected mobility at the IAA Conference – Speaker list published today – The most important developments in the mobility of the future will be presented and discussed across three stages and two dialogue spaces.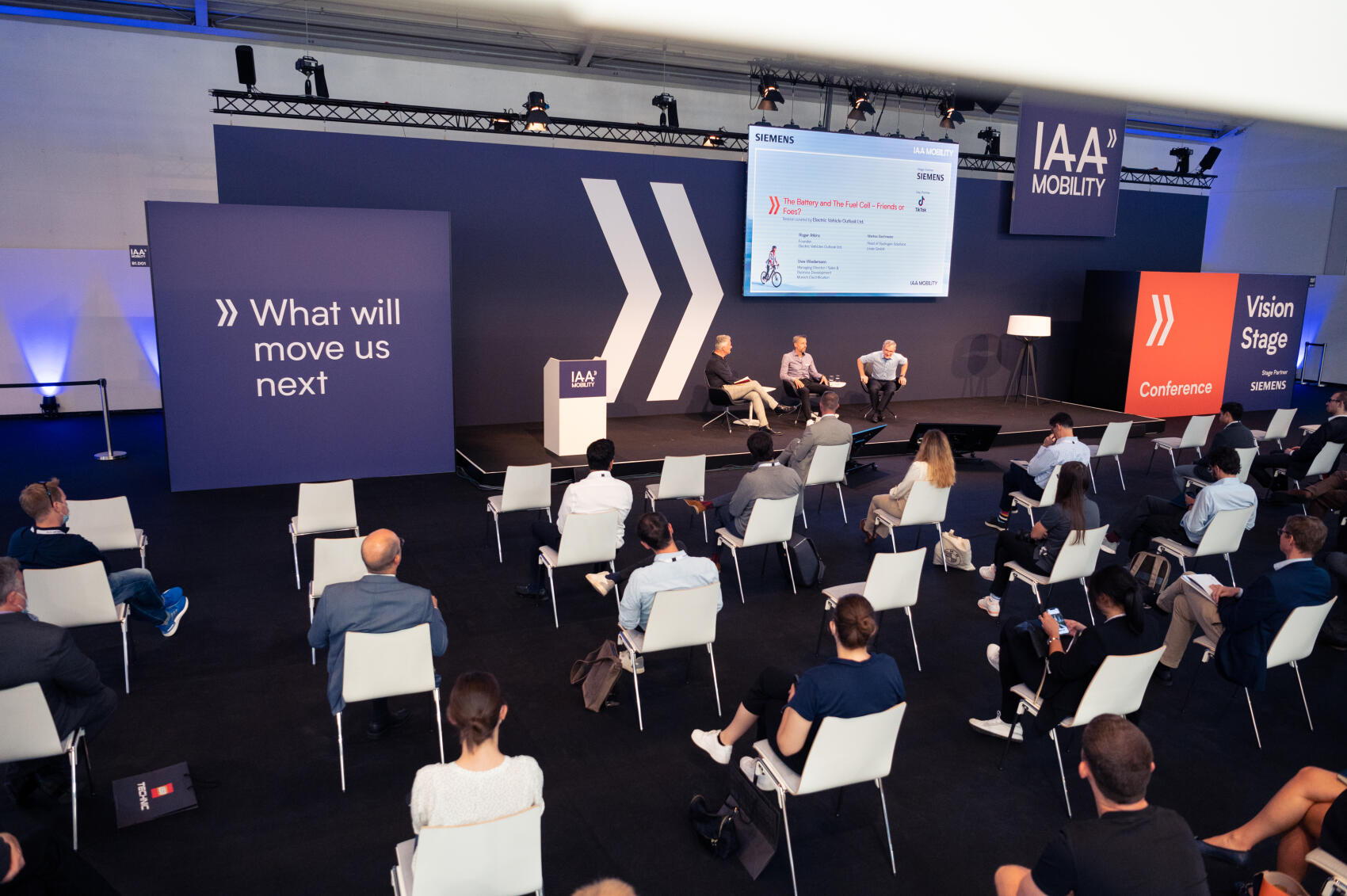 This year's IAA Conference will be held in Munich exhibition center at the IAA Summit from September 5 to 8, 2023. With well over 500 major visionaries, stakeholders, and decision makers, the IAA Conference is the most important international forum for all trade visitors from every segment of the mobility industry. The IAA Conference is a hub for experts, movers, and shakers in the mobility world. IAA MOBILITY has published a first list of speakers at the IAA Conference here.
"The fact that we got these speakers shows that the IAA Conference is a home run. The interest in climate-friendly and digital mobility is enormous, and it's certain that IAA MOBILITY won't only be addressing innovative mobility. The IAA Conference will also give trade visitors the latest insights into mobility of the future and a direct line to the world's foremost pioneers," says Jürgen Mindel, CEO, VDA.
"We at Bosch are hard at work on shaping the future of mobility. It's important to us that we take the public along on this journey with us, which is why dialogue formats like the IAA Conference are very welcome. I'm looking forward to providing insight into the developments at Bosch – especially in electromobility, automated driving, and software – at IAA MOBILITY this year," says Dr. Stefan Hartung, CEO, Robert Bosch GmbH.
"The entire transport industry must come even closer together so that we can maximize CO2-saving opportunities. With intelligently connected services and innovative forms of mobility, we aim to inspire people about climate-friendly alternatives to private transportation. The IAA Mobility demonstrates the potential that is achievable, and Deutsche Bahn, as a partner, underscores our strong belief in this transition," says Dr. Richard Lutz, Chairman of the Board of Management of Deutsche Bahn AG.
"We need technical advancement for all modes of transportation in order to make the mobility of tomorrow more climate-friendly. In the field of air traffic, we are working on a number of initiatives that are bringing us closer to this goal. IAA doesn't just present innovations and technological developments for the automotive sector, but also provides a platform for communicating intermodal concepts," says Carsten Spohr, CEO, Lufthansa Group.
"Automotive is being digitally transformed right in front of us with always-on cloud connectivity, advanced computing and artificial intelligence. ​ As the industry transitions to software-defined vehicles, it is unlocking powerful opportunities for growth, new experiences, and safer, more efficient transportation. ​ I am excited to share how Qualcomm is actively engaged with leading automakers around the world to make their vision a reality and shape the future of digital mobility," says Cristiano Amon, President and CEO, Qualcomm Incorporated. 
"The automotive industry, and the mobility sector in general, are undergoing the greatest turning point in their history: Our industry's contribution to decarbonizing the world. It will be difficult and have many challenges, but the speed at which the entire industry has adapted to this transition is astonishing. Valero has been preparing for this for a long time, and is playing its part with its technology for the automotive industry and new types of mobility," says Christophe Périllat, CEO, Valeo.
 Further speakers are: Martin Brudermüller (CEO BASF), Arnd Franz (CEO Mahle), Dr. Brian Hongdi Gu (Vice Chairman Xpeng), Meredith Glaser (Executive Director Urban Cycling Institute), Thomas Ingenlath (CEO Polestar), Hildegard Müller (President VDA), Sandra Wolf (CEO Riese & Müller) and several more. 
International cooperation partners, keynotes, and discussion of the future of mobility
The concept of the IAA Conference has seen a lot of interest from cooperation partners. IAA MOBILITY is bringing international partners together, including the Boston Consulting Group (BCG), the European Institute of Innovation & Technology (EIT), the MIT Mobility Initiative, Universität St. Gallen, the World Economic Forum (WEF), and the network "Women in Mobility". Amazon Web Services and Accenture are among the conference sponsors. Responses from numerous organizations show that IAA MOBILITY's concept is of great interest.
The IAA Conference will be held on three big stages in the IAA Summit halls at the Messe München-Riem as well as at the two dialogue spaces "Visionary Clubhouse" and "Smart Mobility Space, powered by PwC". Topics such as connectivity & data, sustainability, and urban mobility but also the potential of Generative AI for the mobility industries will offer a rich variety of perspectives of the mobility of the future. Keynotes, sessions, and fireside chats will offer plenty of networking opportunities over a four-day span.
All topics will be covered every day so that visitors to the IAA Summit will have the opportunity to be part of the mobility discussion. Sociopolitical discourse and critical dialogue will also be emphasized, along with the presentation of various socially relevant topics by key opinion leaders. Most items on the agenda will be held in English, and the contents will be curated by the IAA Conference team with support from renowned partners
Media Contact for cycling and micromobility: