IAA MOBILITY 2023: Inaugural bicycle test track in Munich's English Garden
Visitors to test the latest bicycle and e-bike models in the English Garden - Test rides of climate-neutral mobility in the city centre and on the motorway.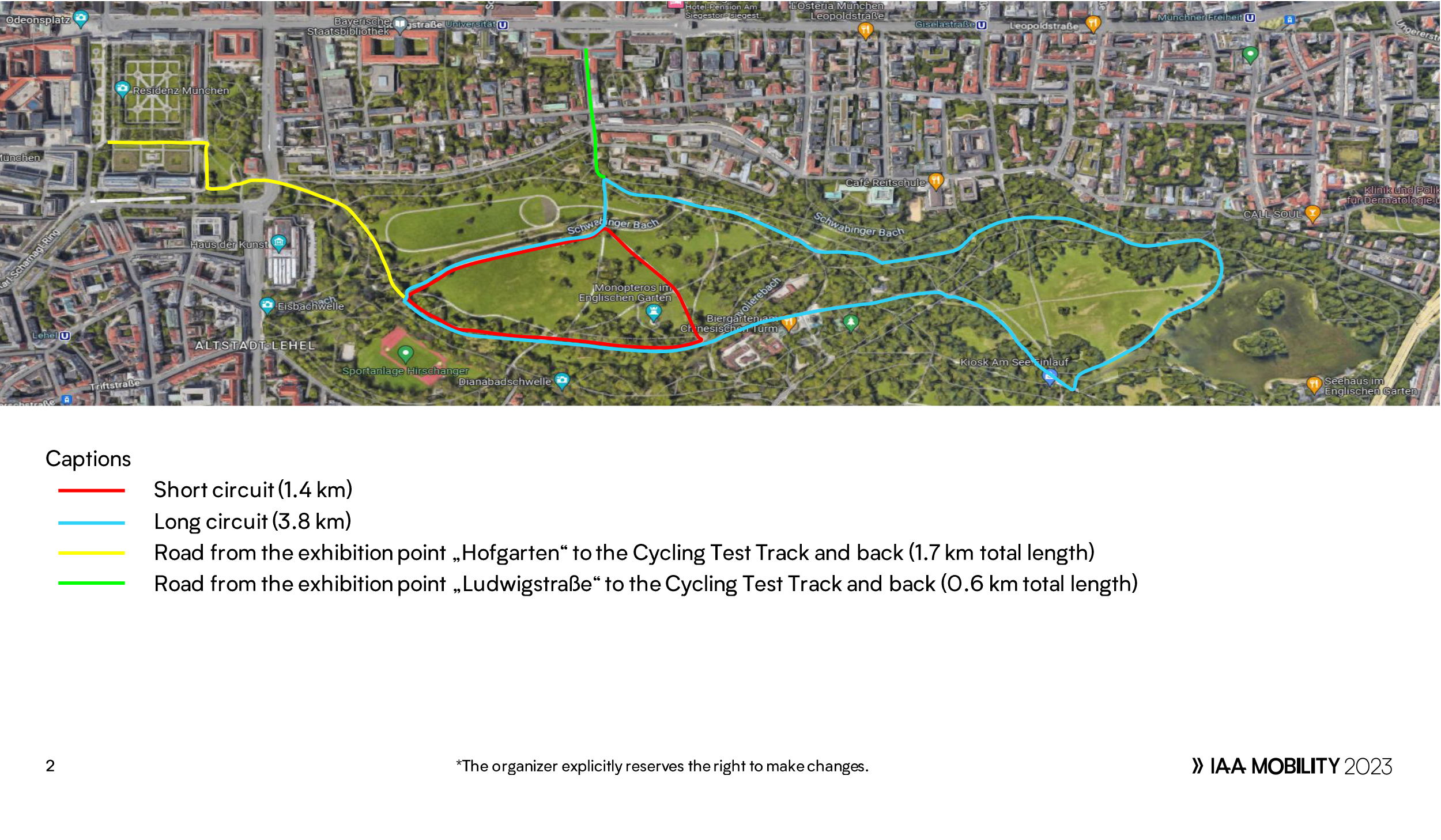 Munich, 16 March 2023
At IAA MOBILITY 2023 in September, exhibitors will once again make a variety of different forms of mobility available for visitors to test, from private cars to micromobility. The clear focus: experiencing climate-neutral mobility. Cars can be driven in the city or on the motorway; micromobility (such as e-scooters and cargo bikes) can be tested on a closed circuit on the "Cycling & Micromobility Parcours" at the IAA Summit. Micromobility offers will also be available at the IAA Open Space in the centre of Munich.
"The mobility of the future must be experienced and everyone should be given the opportunity to do so. This is exactly where the IAA MOBILITY comes in: it is here that technological barriers can be broken down and valuable insights gained. This forward-looking spirit of experimentation in Munich is unique in the world," says Tobias Gröber, Business Unit Director Messe München GmbH.
Bicycle test track supports interactive character of IAA MOBILITY
For the first time, visitors to the IAA MOBILITY can test the latest bicycles and e-bikes in Munich's English Garden. The Bavarian administration of the state-owned palaces, gardens and lakes has approved a corresponding test track. This test track will be available to all visitors, free of charge, during IAA MOBILITY between 5 and 10 September 2023.
"With the bicycle test track in the English Garden, visitors can try out the latest bike and e-bike models on a designated route and in much-loved surroundings. This is a logical addition to the interactive character of the IAA MOBILITY. Experience gained from everyday use will benefit users and manufacturers alike. This is precisely what sets a mobility platform like IAA MOBILITY apart," says Jürgen Mindel, Managing Director of VDA.
"The e-bike will play an important role in future mobility. We see IAA MOBILITY as a good platform to communicate our vision of mobility and our passion for the product to visitors once again," says Tomi Viiala, Co-CEO myStromer AG.
Bicycles and e-bikes can be tested on circuits of varying lengths (up to 3.8 kilometres). The exhibitors' presentation areas are located in the Hofgarten and on Ludwigstraße. From there, visitors can ride through the English Garden to the Kleinhesseloher lake. All bicycle exhibitors have the opportunity to offer their bikes for testing.
Images can be found at Messe München Download Center
Media Contact: