IAA MOBILITY 2023 - 10 Reasons to Visit
For Cycling- and Micromobility professionals and enthusiasts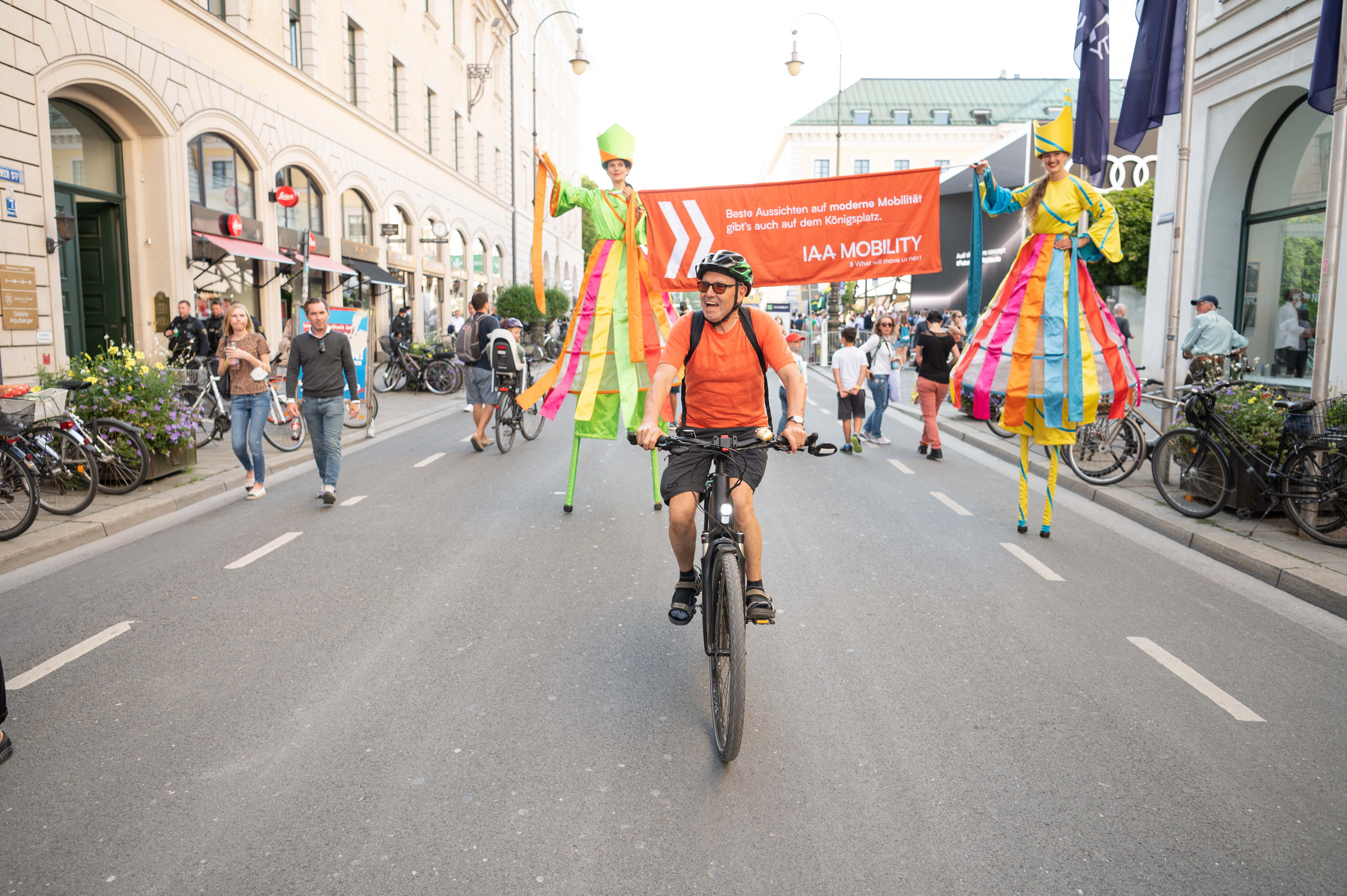 From September 5 to 10, 2023, Munich will once more become the focus of all things concerning mobility, as it hosts IAA MOBILITY for the second time. IAA MOBILITY consists of the Summit at the Messe München exhibition center, and the IAA Open Space in the city center. Visitors to the IAA Summit will also have the opportunity to attend the IAA Conference, the largest mobility conference in the world, featuring thought-provoking speakers from various industries and sectors.
There are plenty of noteworthy reasons to join us and help shape the future of mobility, so here are 10 of them.
1. Open Space: Cycling Activation Area
On Ludwigstrasse, the Cycling Activation Area awaits the public: an expanse of bicycle-focussed fun for all the family. From Pedelec lessons for senior citizens to BMX tips for kids and everything in between, the full spectrum of ages and interests will be catered to here in terms of cycling. ​
​Visitors can enjoy performances by the German Bicycle Team, while at the CTBMX.DE Area there will be no fewer than three spectacular shows a day to entertain the crowd. Not only that, there will also be a small ramp park and airbag that you can ride for free. 
2. Conference: Zukunft Fahrrad will be participating in panel discussion
Friday, September 8 will see the main stage in hall A1 play host a true cross-panel discussion, taking place from 11:00-11:45. Here, representatives of Zukunft Fahrrad, VDA, German rail traffic and transport and the Ministry of Economics will engage in how to strengthen the mobility industry in Germany (rail, bike, car), and thereby its wider economy. This Panel discussion will be hosted in German.
3. Open Space: Pumptrack with CoolMobility Ludwigstrasse
Test your skill, balance and bike control on the S'COOL Pumptrack! Like a bike trail brought to the big city, the pumptrack combines berms and rollers together into an undulating band of blue which creates a fun - yet safe - environment to help take your kids' bike skills to the next level. Cool Mobility understands the importance of getting kids stoked on cycling, and there's not many better ways than on a pumptrack!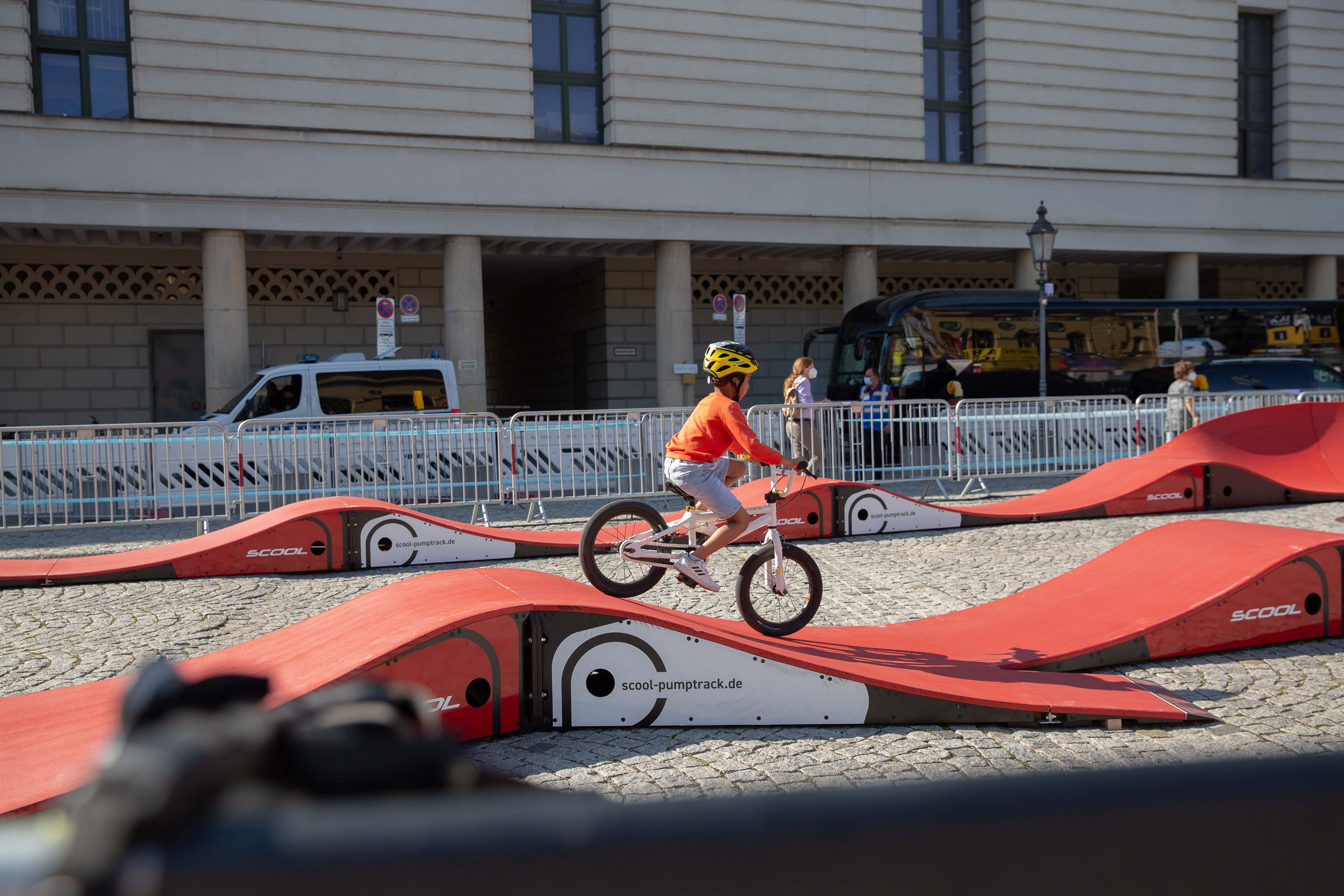 4. Open Space: Family Trail sponsored by Volkswagen
Pick up your Family Trail map and Family Trail stamp card free of charge at the info points at IAA Open Space and start your adventure! The trail begins at any station, and from there you and the family can set off and start collecting the stamps at the designated locations, while exploring the other attractions that Open Space - and Munich's city center - have to offer. Explore stations of your choice with the whole family, participate, experience, be amazed! Collect stamps at four different stations to win a prize. Redeem your full stamp card for a great Liaa medal at one of our info points, or at the Volkswagen stand!
5. Conference: Visionary Clubhouse
At the Visionary Clubhouse (located in Hall A2), at IAA MOBILITY on Thursday, between 14:00 and 17:45, you can expect three keynote presentations and three sessions focused exclusively on topics concerning cycling and micromobility. Examples include McKinsey's keynote on insights on the micro- and minimobility markets, and how disruptive thinking can enable change in technologies and concepts by Mocci.
6. Conference: How to re-code city streets for 21st century mobility
In this keynote (Hall B2, Yellow Stage, September 5th from 12:00-12:15), Dr. Meredith Glaser will give her perspective on how cities can pivot towards more sustainable methods of transport. Serving as Executive Director of the Urban Cycling Institute, Dr. Glaser brings an interdisciplinary perspective to urban mobility, and her ideas on how to create more appealing urban environments for all are eagerly awaited. 
7. Summit: Test track in hall A3 where you can try latest bike and e-mobility offerings from exhibiting brands
In addition to an abundance of exhibitors showcasing their latest products and innovations – from local startups to global players – and visions of mobility's future, IAA MOBILITY visitors in the Messe München exhibition center will also have the opportunity to test a variety of the new cycling and micromobility products on a test track located in hall A3. ​ Here, visitors are able to get to grips with some of the industry's latest innovations on a creative parcours track. 
8. Open Space: Guided Rides
In collaboration with the local galleries that organize the Open Art festival (08.09-10.09) and Biketour.guide, bicycle tours through Munich will be offered. A chance to see the sights of the city with a knowledgeable guide while also stopping off at several art museums along the way, such as "The Bicycle" exhibition at Pinakothek der Moderne. ​
​For the more adventurous there will also be Rideouts with the legendary Jake100. He's well known for his Bike Life movement (and love of swerves and wheelies!), so bring your strongest urban bike game! Registrations will be at the central info booth at Open Space.
9. Open Space: Cycling Test Track
The green expanse of Munich's Englischer Garten will be the site of Open Space's Cycling Test Track. On tracks of up to 3.8km long, visitors are able to experience the latest bikes and ebikes from a variety of exhibitors for themselves. And best of all: it's free of charge. Simply head to the exhibitors' presentation areas in Hofgarten and Ludwigstrasse, register and you'll quickly be off for a test ride into one of the world's greatest city parks. If you ever wanted to test out a range of different models and technologies, then this is the place to do it.
10. Open Space: Velo Concerts
Velo Concerts designed and developed a unique, sustainable, mobile stage for performers, which can be transported by bike and set up in minutes. Velo Concerts' stages will be unfolded in two of Open Space's locations and will be literally the platforms for a variety of live performances and DJ sets.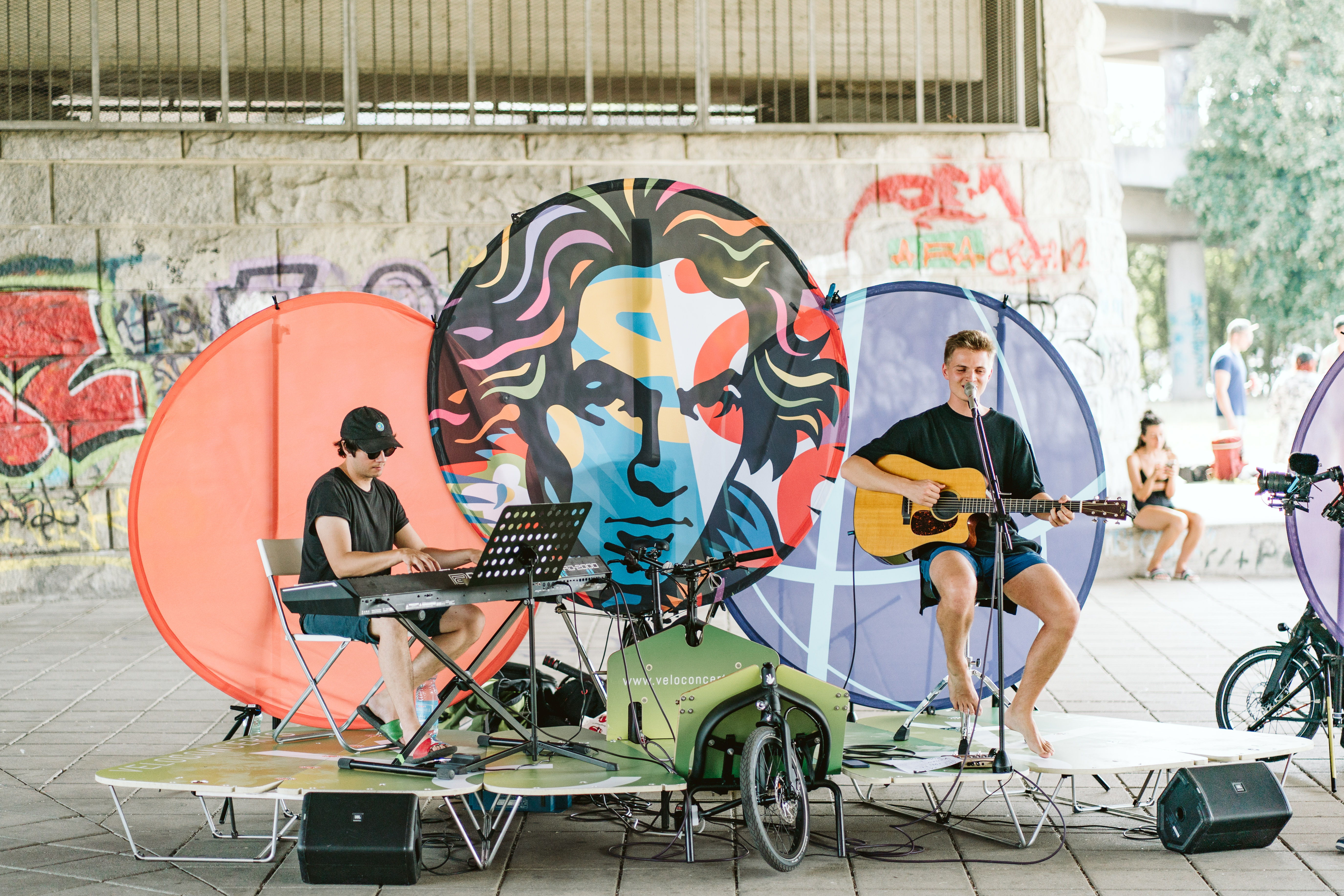 Images can be found here
Media Contact for cycling and micromobility: